Welcome to Bishop Thomas Grant School, September 2023
Please be aware that all information included in this area is subject to change, depending on government guidance regarding the current pandemic.
Welcome
Dear Parents and Children
Welcome to Bishop Thomas Grant School, we are delighted that you have chosen our school and will be joining us in September to take your next step as you grow and develop into happy, confident, well rounded individuals. You are now part of our Bishop Thomas Grant School family. This is an outstanding school with traditional values and high aspirations. At Bishop Thomas Grant School we expect and encourage you to fulfil your potential, but at the very centre of our school ethos is our mission to enable you to continue to grow in your faith and mature into fine young people in this ever-changing world.
We inculcate in our students the importance of hard work, good manners, smart appearance, courtesy, co-operation and service to others at all times. We ensure a curriculum fit for the 21st Century that is personalised to meet the challenges and the needs of individual students. We understand this year, more than ever, that we need to nurture and support your children adapting our curriculum to address the new challenges that we all continue to adjust to.
We appreciate that you as parents and carers have always been the primary educators of your child, however, I am sure you did not expect to take on quite so much of the actual teaching role that was thrust upon you during this academic year. We are a community and we value your role and contribution. We very much look forward to working with you, in partnership with your parishes continuing to help your children to grow in the knowledge of their faith and studies.
PROVERBS 22:6
Teach children how they should live, and they will remember it all their life.
Yours sincerely
Bernadette Boyle
Headteacher
Welcome to Bishop Thomas Grant School
A brief tour of BTG
Welcome Pack
2. ICT Form
5. Music Letter
6. FREE SCHOOL MEAL ELIGIBILITY REGISTRATION FORM
7. Charitable Foundation Letter
7a. BTG Charitable Foundation Agreement to Contribute form
7b. BTG Charitable Foundation Gift Aid form
7c. BTG Charitable Foundation Standing Order form
8. Friends Letter for new parents
All Correspondence
Key Dates
A Time Line of What to Expect
May 2023

Welcome to BTG! You have accepted your place at BTG and we look forward to you joining us in September. This month our team will send out a welcome letter to you and your parents, welcoming you to the BTG family. This will also be an opportunity for you to send in any questions.

Our website will continually be updated, so look out for a tour of the school and helpful hints to ease you with the transition.


Check you inbox! Look out for an email with the name of your house and the school uniform list.

June 2023

Members of our Transition Team will be visiting Primary Schools to say hello to our new students, so keep an eye out for them.

Check out the website! Any answers to your children's questions will be available on our website.

This month our team will send out a Welcome Pack and a getting to know you profile, to ensure we get to know you as much as possible before September.

July 2023

Almost there! This month, we will meet you for the first time! See below for some important dates for your diary:

7 July - CATs test and day in school - 9.30am until 2.30pm

8 July - Hewitt's of Croydon Uniform shop in school from 10pm until 1pm

17 July - Parents meeting in the School Hall at 5.30pm.

August 2023

Completion of our fun Summer Parish Project, which will be sent to you at the beginning of the summer holidays.

September 2023

Welcome to BTG! Your first day in school is dedicated to Year 7. This is an opportunity to meet key members of staff and your Form Tutor. Throughout the rest of the week, you will have an induction into life at BTG, a picnic, wellbeing afternoon, tour of the school and other exciting activities.
Uniform and Equipment
Uniform & PE Kit

The Bishop Thomas Grant School uniform is distinct. We insist on all pupils wearing full uniform at all times particularly on their journeys to and from school. Parents are required to support the school in this matter.
To view the Bishop Thomas Grant School Uniform and Appearance Code, please click here.
Students who come to school in incorrect uniform or appearance will be asked to go home and change.
Your school uniform can be purchased at Hewitts of Croydon
You can shop Bishop Thomas Grant School uniform online by visiting the Hewitts website.
Hewitts Contact Information
Address: 45 - 51 Church Street, Croydon, CR9 1QQ
Telephone: 0208 680 4555 / 0208 688 1830
Email: customercare@hewittsofcroydon.com
Website: www.hewittsofcroydon.com
Opening Times: Monday - Saturday 09.30am - 18.00pm
Items marked (H) must be purchased from Hewitts. All uniform must be clearly labelled with the owner's full name.
Equipment
Equipment to be purchased before the first day of school:
Black and Green Pens

Pencils
Colouring Pencils
Erasers
Sharpeners
Ruler - 30cm
Protractor or Angle Measurer
Scientific Calculator – Casio FX-83GTX classwiz
Glue Stick
Plastic Compass
Clear Pencil Case
Transition Resources
General Resources
General tips on how to help prepare your child for the transition from primary to secondary school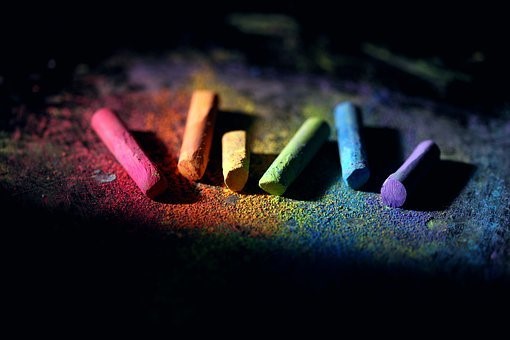 Talk to your child and listen to any concerns they might have. Be positive and enthusiastic about the transition to secondary school. Your child is more likely to look forward to their first day without too much anxiety if you stay positive. This is especially important now as transition has been more challenging for them.
Do you know any parents or neighbours who already have children attending the school? It can be an excellent idea to introduce your child to older children so they will have a friend to look out for during the first few days at the new school. During the Summer holidays have a trial run of the route to school. If they miss the bus, talk to your child about what they should do. Likewise, if you are unable to get away from work and can't pick them up on time what should they do.
Involve your child and get prepared in plenty of time. This might involve taking your child 'school shopping' and getting their stationery items, uniform, train or bus passes etc. No doubt, during the summer holidays, bedtime will be a lot later than usual and getting up in the mornings will also be a late lazy affair! To avoid giving a shock to the system, during the last week of the summer holidays wake up early as if it was a school day. Help your child become more responsible. Get them into the habit of checking their school timetable and getting everything ready for the next day. For example, on Thursdays they may need their PE kit. Having a homework board and activity schedule on the wall can help with this. Make sure they pick up the right habits from the start.
Consider any changes you may need to make at home to ensure there is space and peace and quiet for homework to be completed without distractions. You may want to set homework times- before dinner for example. A dedicated desk for your child's room can be a game-changer.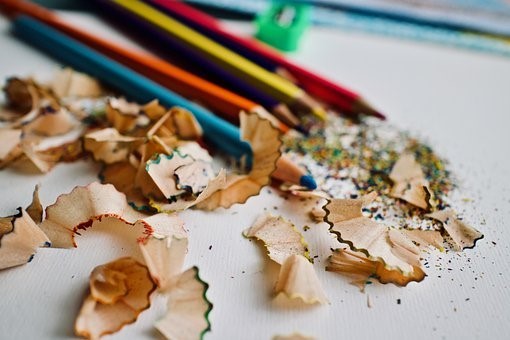 Look at the school's website and encourage your child to do the same. This is a good way to become familiar with policies and school activities. Encourage your child to join lunchtime clubs or participate in after-school activities. This is a fabulous way for them to make new friends with the same interests.
Safe Travel
Walking to school is an excellent way of starting the school day, if your child's secondary school is close enough. Children, some studies show, are more alert and ready to learn after they have had a short burst of physical exercise, such as walking, before they enter the classroom. It is also very good for the environment and free! It can also be a social activity. Many parents are concerned about their child setting off on the journey to school on their own. Things which you might like to consider with him or her:
What do you both think is the safest route from home to school?

Do they know to walk away from the kerb, at the back of the footpath?

Where are the safer places to cross, and do they know how to use formal crossings properly? (It might be a good idea to do a practice walk jointly in the summer holidays)

Are there any hazards on the way, and how can they deal with these hazards?

Can they arrange to walk with other children?

Do they have any other worries about the journey to school?
Travel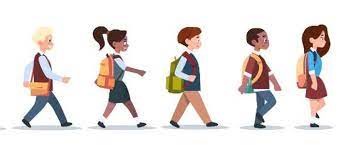 The move to secondary school quite often involves travelling further distances, so it is not always possible to choose an active form of travel, such as cycling or walking. It is the natural time to consider the possibility of more independent travel by public transport, particularly as many pupils will receive bus or train passes for travel to and from school. If your child applies for a Pass, he or she can also use this on registered bus services at evenings and weekends. If your child has not previously used public transport on his or her own, these are points you might like to discuss:
Where is the bus stop or the train station?

What is the number of the bus they need to catch?
Which platform does their train leave from?

How do they buy a ticket, if they need to?

What time does the train/ bus leave in the morning and in the afternoon?

Where should they cross the road after getting off a bus?

What should they do if the bus or train is late or cancelled?

Can they read a bus or train timetable?

Who can they ask for information?

How they should behave on the bus or the train.

Which is the safer route to walk to and from the bus stop or the station?

Do they have any concerns about travelling by public transport? (Your child might appreciate a practice journey with you by public transport before the start of their first term.)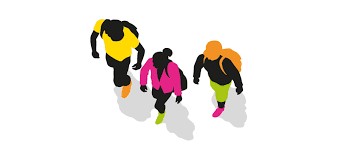 General preparation for safe journeys
Plan a journey - Transport for London (tfl.gov.uk)
11-15 Zip Oyster photocards - Transport for London (tfl.gov.uk)
When children start to become more independent while travelling to school, parents naturally have concerns regarding their personal safety. They worry about where their child is going and what time they will be home, and are troubled by "stranger danger", although the actual risk of abduction is low. The points below might be useful for you to consider with your child, so that both of you can minimise risks:
Does your child know what to do in an emergency… know that the school has a ban on Phones and listening to music through headphones in on their journey to school.…
have the right equipment or high visibility clothing for their journey? ...
have places along the way (shops or friends houses) where they can stop if feeling unsafe? …
know where to go if they forget their door key? Do you …
know who your child is with? …
know where he or she is going and how he or she is getting there? …
know how / when you expect him or her to get home? …
have an updated list of the phone numbers of your child's friends (including surnames, not just first names or nicknames)
Information Relating to Cashless System in School ParentPay
At Bishop Thomas Grant School, we do not handle cash as a method of payment for school lunches, trips, books, sports equipment etc. Instead, the school uses an online (or cashless) payment system called ParentPay.
FOR THE PURCHASE OF FOOD IN THE DINING HALL
How does the 'cashless' system work as payment for school lunches and food at break time?
At the heart of the 'cashless' system is a software programme which recognises each individual student, holds individual cash balances and records expenditure and cash received. It also records where and when money is spent and on what food.
How are the students recognised by the system?
Biometric (fingerprint) information is converted and stored as a unique number. Parents and students can rest assured that the fingerprint information held cannot be re-converted back into an image of the fingerprint, nor can it be used by any other source for identification purposes.
How is this account used to obtain a school meal?
A biometric scanner will be used at each till point in the dining halls, whereby a student will place their finger on the scanner to activate the individual account. A display will show the student's name, tutor group and current balance held within the system.
How is the money entered into the system to pay for food?
The school uses ParentPay and PayPoint. ParentPay is the online payment service that allows parents to pay online securely by credit & debit card. Activation details will be sent to new students and can be obtained by contacting the Business Management team. If Parents/Carers do not have access to the internet, payment can be made in cash at PayPoint outlets. PayPoint cards can be ordered in writing from the Finance Officer.
If we pay for a set number of school meals, can it be spent in one day?
No, a daily limit of £5.00 can be set for all students and no food above that limit can be bought.
What if a student does not hold a sufficient cash balance to pay for a school meal?
Parents are responsible for ensuring that enough funds are available in advance for their child's daily meal.
The school does not operate an 'overdraft' facility.
Students are unable to pay at the till points with cash as catering staff are not allowed to handle cash.
What if a student is entitled to a 'free school meal'?
The system works exactly the same for all students whether they pay themselves or have a free school meal. All students gain access to their accounts via the biometric scanners. The amount allocated for the free school meal will be entered into the system by the software daily and will only be accessible at lunchtime (not breaktime) for the meal of the day.
FOR PAYMENT OF OTHER ITEMS
If a request is made for students to go on a trip or to purchase a resource, parents/carers will receive written notification in advance of the activity/resource confirming the total payment and deadline payment date. The school will then add the activity to relevant students' ParentPay accounts so that parents/carers can then make the appropriate payment online.
What if I have another ParentPay account?
When you are given your username and password for your child at Bishop Thomas Grant School, you will have to merge this new account with your existing ParentPay account by following the instructions on the ParentPay website.
Please contact one of the Business Management team on mdesira@btg-secondary.lambeth.sch.uk should you have any queries.
The Friends of BTG
SEND
Wellbeing
https://www.mentalhealth.org.uk/campaigns/mental-health-awareness-week
This site offers strategies to help young people cope with anxiety, 26 things they can try.
This site helps young people to think about how they can calm down and get ready for a good quality of sleep.
Great step by step guide to help children and parent prepare and make the transition from primary to secondary school. It would be great if we could produce our own version.
https://www.mentalhealth.org.uk/sites/default/files/moving-on-top-tips-for-pupils.pdf
House System
English Reading Suggestions
Adventure and mystery
The Terrible Thing That Happened to Barnaby Brocket by John Boyne
Barnaby Brocket was born unable to follow the laws of gravity. He floats and floats until his parents decide to send him away so he can learn to keep his feet on the ground.
Storm Catchers by Tim Bowler
When Ella is kidnapped during a storm, the whole family is horrified. But the kidnapper is after more than money from this family before he returns her.
Alone by D.J. Brazier
Sam finds himself stranded in a tropical jungle after a plane crash. With nothing except the clothes on his back, he needs to figure out this deadly environment fast: what to eat, where to go, how to stay safe – how to survive everything the jungle throws at him.
Lightning Girl by Alesha Dixon
Aurora discovers her mum is a superhero and then realises her own superpowers are starting to shine through. But is she strong enough to stop an evil supervillain?
The London Eye Mystery by Siobhan Dowd
Ted likes the weather, statistics and routine, and struggles when his aunt and cousin, Salim, come to visit. Ted watches as Salim goes up on the London Eye but doesn't come down again. Ted's analytical mind gets to work as he begins to unravel the mystery.
The Girl Who Stole an Elephant by Nizrana Farook
Chaya is a thief who steals unnecessary riches from privileged people in order to care for the poorest people in her community. After a theft goes wrong, she decides that stealing an elephant is the only way to protect her friends and family…
High-Rise Mystery by Shona Jackson
Nik & Norva are tracking they track down a killer in their high rise building. It's a sweltering London summer and there's a killer on the loose.
Kensuke's Kingdom by Michael Morpurgo
Michael washes up on what appears to be a deserted island – until he meets Kensuke, who used to be a Japanese soldier. Their friendship beats the boundaries of culture and language.
The Recruit by Robert Muchamore
James is recruited into a secret organisation – CHERUB – that trains children to be spies and sends them out into the world to catch criminals and terrorists.
Dystopian and science fiction
The Middler by Kirsty Applebaum
Maggie is a 'middler' – the middle child of her siblings, but she wishes she was the eldest. They get all the excitement and are sent to war camp when they are 14. Her town seems peaceful and perfect, but Maggie discovers the secrets beneath everything she thought was true.
The Infinite by Patience Agbabi
Elle has a unique gift: she can skip backwards and forwards in time. She receives a message from the future, warning her that people like her are disappearing. She must save the future by fixing the mistakes of the present.
Where the River Runs Gold by Sita Brahmachari
In the future, the Earth has been devastated by climate change. Shifa and her brother are sent away to work and discover just how cruel and corrupt their world is. This book is full of hope and inspiration to make a difference now while we can.
The Giver by Lois Lowry
Jonas is brought up in a world that seems to be perfect. But when he experiences joy and sadness for the first time, he realises what his society gave up is not the answer to a perfect world.
The Dog Runner by Bren MacDibble
A terrible fungus has swept across the land, creating a worldwide food crisis. Ella and her half-brother, Emery, realise their only hope is to take their dogs and travel in search of his mum, in a desperate race for survival.
Fantasy / magic
Asha and the Spirit Bird by Jasbinder Bilan
In order to save her family from the money-lenders, Asha sets off on a dangerous journey to find her father and bring him home. Although she faces some dark and terrible truths about the vulnerability of the poor in India, she is guided and kept safe by the spirit of her grandmother in the form of a lamagaia bird, and other spirits of her lost loved ones.
Mind Writer by Steve Cole
Luke can read minds, which has been brilliant for helping him out at school. But then he meets Samira, whose mind powers are even stronger than his. A demon wants them both to combine their powers to turn all good to evil. Can Luke must convince Samira to resist.
Artemis Fowl by Eoin Colfer
In this hilarious adventure, a 12-year-old criminal mastermind sets out to steal all the gold in fairy land. However, Captain Holly Short, the first female office in her police unit, is ready to face him.
Inkheart by Cornelia Funke
A mysterious stranger arrives at 12-year-old Meggie's door telling her that he has the ability to make stories and characters come to life – and he has accidentally created a terrible villain. Meggie must alter the story to save the father she loves in a race against time.
Blackberry Blue by Jamila Gavin
This is a beautiful collection of six mystical fairy tales that are both traditionally heartening but with fresh and exotic twists. Fantastic surprises on the way to love, justice and kindness triumphing over evil and cruelty.
Brightstorm by Vashti Hardy
This is an exciting adventure for twins Maudie and Arthur: their dad is reported dead on his exploring mission and they are sold to a horrible couple. Maudie is a serious inventor and Arthur is credibly empathetic – he can even communicate with 'thought wolves', believed to be vicious, wild beasts.
The Girl of Ink and Stars by Kiran Millwood Hargrave
When her closest friend disappears into her island's 'Forgotten Territories' Isabella volunteers to guide the search, led by a map left by her father, her heart and an ancient myth.
Northern Lights by Philip Pullman
Lyra and her animal daemon must leave England on an adventure that takes her to the magical frozen lands of the Arctic, to witch-clans and ice-bears. She must discover the truth about her identity and makes a discovery that will rock the entire planet.
Oh My Gods by Alexandra Sheppard
Life can be challenging enough for teenagers, without having ancient Greek gods for half your family! This book is a fun and witty celebration of diversity and individuality.
Fun / humour
Little Badman and the Invasion of the Killer Aunties by Humza Arshad and Henry White
Humza Khan is an 11-year-old who is desperate to be a cool rapper but he realises that something is happening at school when the teachers start vanishing and everything thing goes crazy!
Millions by Frank Cottrell Boyce
Damian is obsessed with saints and lives in cardboard boxes to avoid materialism. One night, a bag of £229,370 lands on his boxes and Damian is sure it is a gift from god. But how should he spend it? He only has 17 days before the currency switches to Euros and the money becomes worthless!
The Last Kids on Earth by Max Brallier
It's now 42 days into the monster zombie apocalypse and Jack Sullivan is doing well – he even makes his own challenges to complete like a video game. He's aiming to become the best zombie-fighting and monster-bashing hero of them all!
Planet Omar: Accidental Trouble Magnet by Zanib Mian
Omar goes to a new school and struggles with the class bully, who tells him he'll be picked out of the country because he's Muslim, and Mrs Rogers who lives next door and complains about Omar's mum frying onions. However, Omar soon realises that Daniel isn't so tough and comes to the rescue of Mrs Rogers.
Killer Animals: The Wimp's Guide by Tracey Turner
This fun and interesting non-fiction book gives fascinating facts about some of the most dangerous creatures in the world.
Historical / Conflict
Wolf Children by Paul Dowswell
Hitler's army has surrendered but the ruins of Berlin are still rife with danger. Otto and his friends must fight to survive the invading armies and deadly gangs.
Boy 87 by Ele Fountain
Shif and his best friend are ripped from their families and sent to life in a remote desert prison. However the imprisoned men give everything to help them escape. This is set in an unnamed country and explores the reality of life as a refugee, as well as the power of kindness and human spirit.
The Bone Sparrow by Zana Fraillon
Subhi was born in a refugee camp and has never seen the outside world. But one day he meets Jimmie, an illiterate young girl who lives nearby. Their friendship leaves the reader full of hope and joy.
Once by Morris Gleitzman
Felix sees Nazi officials burning Jewish books in his orphanage and sets out on a mission to find his real parents and warn them of the danger. The writer uses simple but powerful language to deal carefully with the horrific events of the Holocaust, focusing on humanity and hope.
Bone Talk by Candy Gourlay
In 1899, Samkad lives in a remote tribe in the highlands of the Philippines. He is getting ready to become a man of the tribe when American invaders arrive and threaten everything he knows and loves.
Race to the Frozen North by Catherine Johnson
In the 19th century, 11 year old Matt walks to Washington DC in search of a new life. Because of the colour of his skin, he has to work harder than everyone else around him to get half as far, but by the time he is 20, he has travelled the world, speaks several languages and is a master carpenter. This is the story of real-life explorer Matthew Henson.
Diver's Daughter: A Tudor Story by Patrice Lawrence
Eve is a young black girl in London in the late 16th century. She and her mum struggle to survive living in poverty until a wealthy man notices how good her mum is at diving and sends them on a mission to find the treasure of the sunken ship: the Mary Rose.
Armistice Runner by Tom Palmer
Lily's passion in life is running. She is staying with her grandparents and is worried about her grandmother, who has Alzheimer's. But then Lily discovers that her grandfather was a message runner during World War One and his diaries help her to understand her family history.
Now or Never: a Dunkirk Story by Bali Rai
Private Fazal Khan, a young Muslim soldier in the Indian Army Service Corps, arrives in France during the freezing winter of 1939 and experiences the harsh realities of war. And despite the sacrifices he and the other members of Company 32 are making in the war, not everyone is treating them as equals.
The Boy at the Back of the Class by Onjali Q Rauf
When the class learn that Ahmet is a refugee from Syria, three classmates make a massive impact on Ahmet's life and the wider school community through their bravery and kindness.
Difficult life situations / relationships
Boy Underwater by Adam Baron
Cymbeline is great at sports, although he has never been swimming. When he has an embarrassing accident at his first school swimming lesson, his mum seems to have some sort of breakdown. Cym has to uncover some dark family secrets to understand what has happened.
Pig Heart Boy by Malorie Blackman
Cameron accepts to take part in a radical and controversial experiment to have a heart transplant from a pig in order to save his life. But not everyone is accepting of his choice.
Blubber by Judy Blume
Linda is picked on by the class bullies because of her weight. Jill fees bad but when she finally works up the courage to stick up for her, she becomes the next victim of the bullies – and Linda has joined their side.
Artichoke Hearts by Sita Brahmachari
Mira reaches puberty, just as her grandmother enters the final stage of cancer. This story tells the process of bereavement and helps us understand that we grow from our experiences and deals with the issue sensitively and with humour, exploring the multicultural families.
A Pocketful of Stars by Aisha Bushby
Safiya loves gaming, but when her mum suddenly becomes ill, Safiya must use her gaming skills to uncover the truth about her mum's past. This story deals with changing friendships and relationships and learning how to stay goodbye and is set in London and Kuwait.
Mockingbird by Kathryn Erskine
A high school shooting has devastated a small American town. Caitlin has Asperger's Syndrome and struggles to deal with the loss of her brother and the reactions of the people around her.
Check Mates by Stewart Foster
Felix is always in trouble at school as he finds it impossible to concentrate and stay focused. He learns to play chess with his granddad and makes surprising discoveries about his granddad's past that have been kept hidden for 60 years and go back to the cold war.
Tall Story by Candy Gourlay
Four-foot tall Andi has moved to the UK and is fighting to play basketball at her new school, while her eight-foot half-brother, Bernardo, who has a reputation for his basketball skills, lives back in the Philippines and waits to join her and his mother in England.
The Curious Incident of the Dog in the Night-Time by Mark Haddon
Christopher, a mathematical genius and Sherlock Holmes fan who has Asperger's Syndrome, sets out to solve the murder of a dog on his neighbour's lawn. This takes him on a journey to London to find the mother he thought was dead.
Boy in the Tower by Polly Ho-Yen
Ade watches from the 17th floor of his tower block as strange and terrible plants take over the city and everyone is evacuated. Except his mother is refusing to leave. This is a story about friendship, loyalty and bravery.
No Fixed Address by Susin Nielsen
Felix is desperate to get accepted as a contestant on Canada's biggest quiz show so that he and his mum no longer need to live in their van and can have a better future.
Wonder by R.J. Palacio
Auggie has a severe facial deformity which means he always stands out, which is exactly what you don't want when you start a new school. This story is told from the perspective of other characters and spreads a message of kindness.
Ghost Boys by Jewell Parker Rhodes
A white police officer shoots and kills black 12-year-old Jerome because he thought his toy gun was a real one. Jerome's ghost watches the aftermath and meets the ghosts of others who have died because of bias throughout history in this beautiful and tragic book.
All Information on the books above can be found on the links below:
Extra-Curricular Activities
Extra-Curricular Activities
Here is an example of what extra-curricular activities are on offer at BTG for Year 7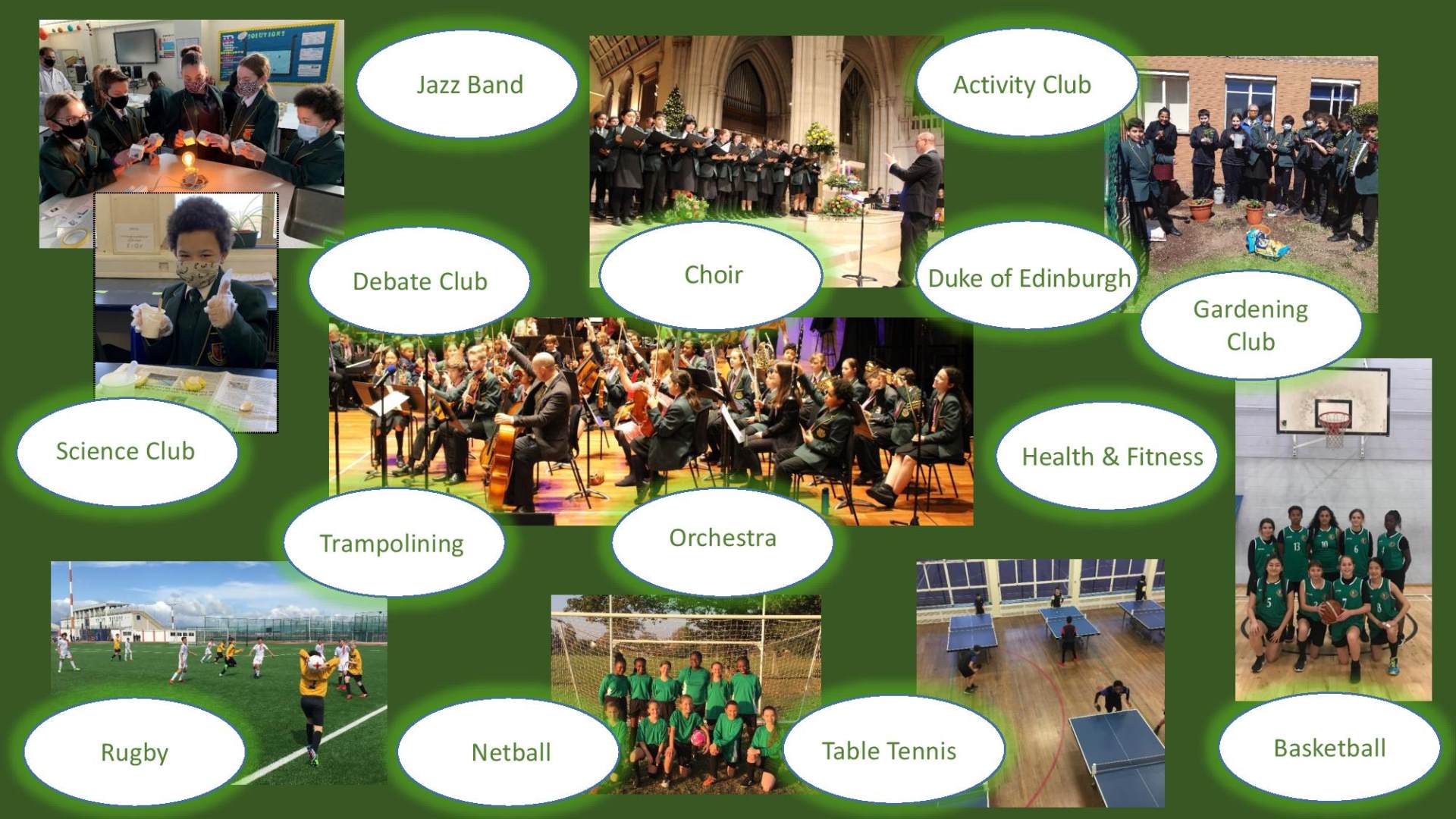 Please click on this link for Music
Please click on this link for Art
Your Questions Answered
Summer Parish Project
Year 7
My Parish
Dear New Year 7 pupils,
Over the Summer holiday you will be undertaking a small investigation into your Parish.
Your aim is to produce a booklet of information for a new parishioner.
Imagine Jeff and Jess here had just moved into your local area and needed to find a parish to go to. They want to know all about your parish and so it is your job to try and inform them!
Contents of the booklet must include at least the following:
Name of the Parish
Name of the Deanery and names of other parishes in that Deanery
Name of Diocese and names of Archbishops or Bishops overseeing the Diocese
Address
Telephone numbers
Website address/email address
Names of the Parish team (pictures/photos of them)
Times of services
Arrangements for Baptisms and weddings
Plan of the Church (floor plan)
Map showing location of the Parish
Main groups or activities that happen in the Parish
Words of welcome from the Parish Priest
A short review from you about what you like about being a parishioner there.
Any other information you wish to include.
E.g- Groups held at your parish
- confirmation groups
- how they support each other in the parish
- photos or drawing of your Church
Does the Parish have a webcam
How did they stay connected with the Parish during Lockdown ?
Then write a summary of why going to church is important?
It must be produced on a computer where possible
Deadline is 7th of September
I look forward to seeing your work.
Have a lovely Summer break please do not worry about starting Secondary School I promise you are going to love BTG ! We very much look forward to seeing you in September.
God bless
Mrs O'Donovan